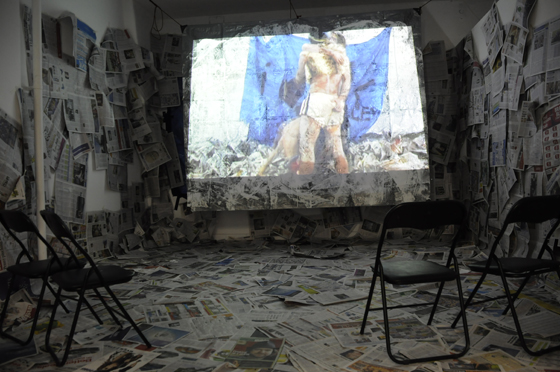 BIG LEAGUE BALLS
20 May – 5 June 2010
Eric Bridgeman
Big League Balls is a new body of work by Papua New Guinea- and Brisbane-based artist Eric Bridgeman. Featuring a dazzling array of new performance, installation, video and painting works, Big League Balls playfully and provocatively undresses Australian Rugby League sporting culture. At once grotesque and humorous, Bridgeman re-imagines the game and its accoutrements, to probe some of the social and ideological underpinnings of this popular and controversial sporting code.
Sacred cows of this dominant male pastime are questioned and undermined, grabbing the bulls by their balls to offer over-dramatised performances and fictional scenarios that attempt to sexually liberate the equally homo-erotic and homophobic constructs of the sport.
Eric Bridgeman was born in Brisbane, Australia in 1986, with heritage from the Chimbu Province in the Highlands of Papua New Guinea. Issues of race, gender, and sexuality are central to his works which range from photography, video, performance, installation and painting. Bridgeman's debut body of work "The Sport and Fair Play of Aussie Rules" (2008/09) helped launch his work into state collections and exhibitions at the Institute of Modern Art, Queensland Centre for Photography, Australian Centre for Photography, and Next Wave Festival. In 2010, Bridgeman's appearances will include the Sydney Mardi Gras Festival, exhibitions at Gallery 4A (SYD), Next Wave Festival (MELB) and the Basil Sellers Ian Potter Art Prize (MELB).