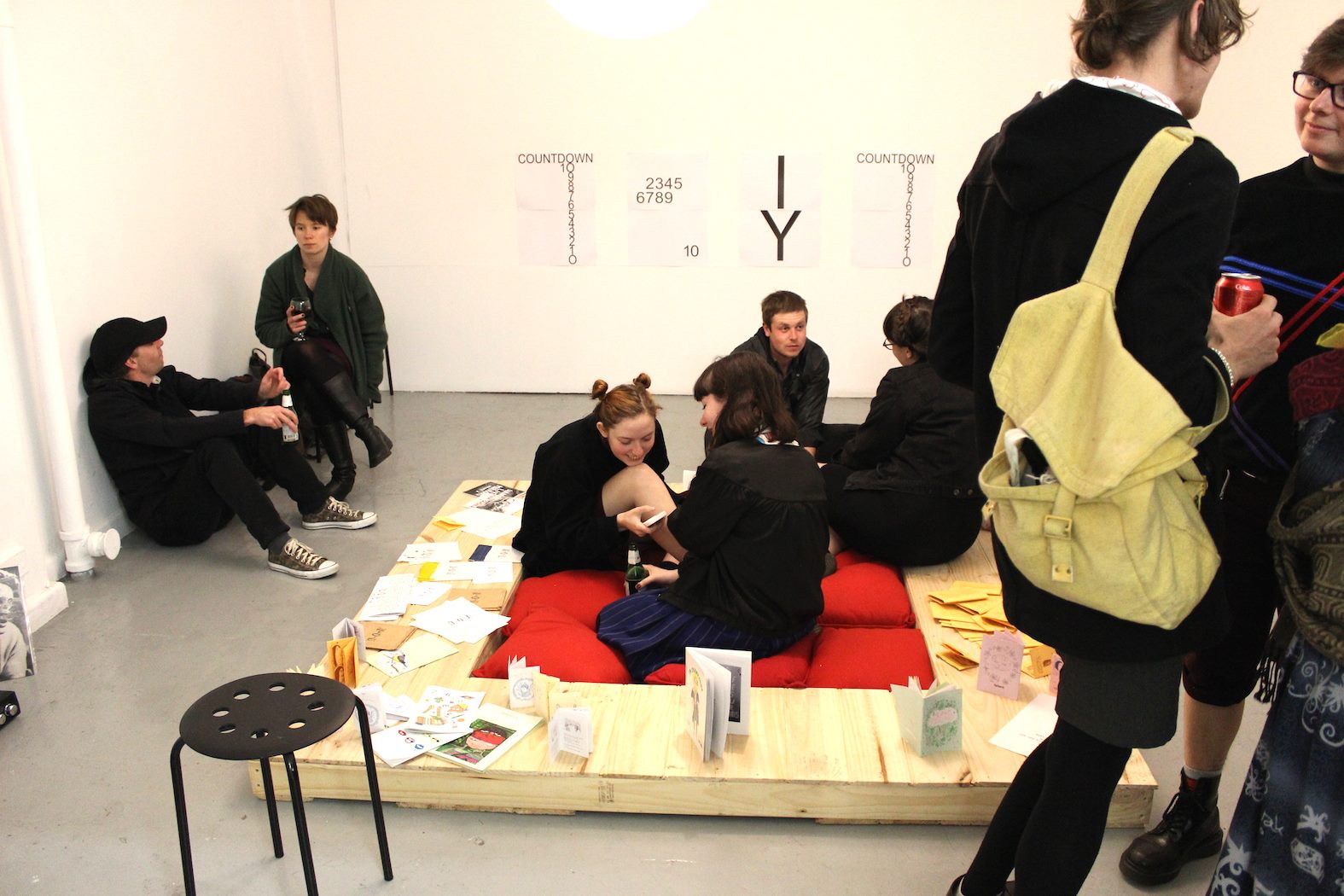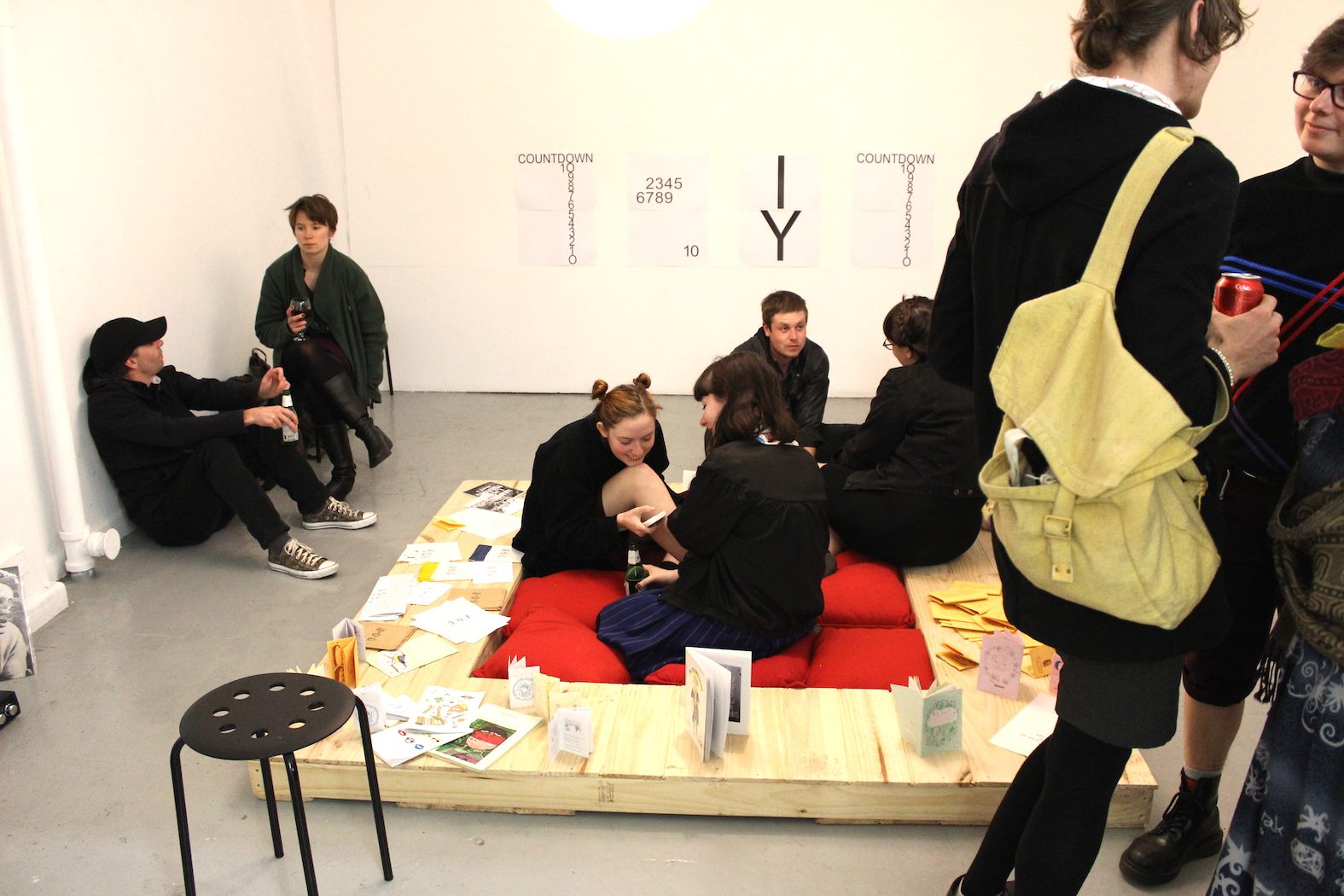 BLINDSIDE FESTIVAL: MEET THE PUBLIC
27th August - 6th September
Opening Night | Wednesday 27th, August, 12 - 6pm
BLINDSIDE presents their 2014 Festival: MEET THE PUBLIC from 27 August to 6 September.
This 11-day multi-platform event tests the limits of public participation in contemporary art practice. It showcases a series of performative and participatory works by artists and art collectives who explore the parameters for artist and audience engagement through live art, site-specific interventions, and inter-subjective encounters.
In Gallery 2, COLLISION, a dedicated space for ideas to collide and populate will be presented, featuring a special zine display and a 1970s inspired conversation pit.
BLINDSIDE invites you to MEET THE PUBLIC.
IMAGES | Images courtesy of the artists.
ARTISTS
In The Meantime | ACES
We've been meaning to catch up and play cards….
In The Meantime presents a set of oversized custom playing cards. Members of the public will be invited to take part in a series of card games and events utilising the cards.
The absurd size of the cards will add new challenges to the games, inviting collaboration and inventiveness whilst competing. These almost-familiar card games will explore the possibilities of participatory projects, co-operation, failure and success.
In The Meantime is a collaborative art collective run by artists Alica Bryson Haynes, Lizzy Sampson, Shae Rooke and Claire Robertson. www.inthemeantimeprojects.com
When: 27 & 30 Aug, 12-6pm
3 Sep, 12-6pm
Performance: 30 Aug, 4-6pm
Where: Gallery 1, BLINDSIDE
___________
Amy Spiers | Wait here until called
It is a common perception that asylum seekers who arrive in Australia by boat are queue jumpers, who try to "rort the system" and forgo the "proper channels" for entry into the country. The view that boat arrivals are improper necessarily imagines that there is a just and orderly formal process for seeking asylum and a correct place overseas for refugees to wait for resettlement.
Wait here until called is a two-day participatory installation involving a room of patiently waiting refugees. The work actualises the fantasy of a proper waiting process.
Amy Spiers is a Melbourne-based artist and writer who makes socially engaged and participatory art. www.amyspiers.com.au
When: 28 & 29 Aug, 12-9pm (Open Studios, Nicholas Building, 6-9pm)
Where: Gallery 1, BLINDSIDE
___________
Julia Trybala & Aaron Billings | Collab Comics
'Collab Comics', hosted by two of Melbourne's emerging talents Aaron Billings and Julia Trybala, is an interactive workshop focused around ideas of collaborative production and zine-making. Participants will be invited to contribute as little or as much as they desire in a free-form afternoon of fine-lining and mind-melding. At the end of the day, a series of mini-comics will be drafted up and prepared for risograph printing. The final products will be available at the BLINDSIDE zine stall throughout the duration of the festival.
When: 31 Aug, 12.30-3pm
Where: Gallery 1, BLINDSIDE
___________
Performprint (Michael Meneghetti & Joel Gailer) | Bearings, beauty and irrelevance
Performed by Richard Flude
The performance of skateboarding and the art of text are two activities whose agencies are inherently purposeless, though this is also their strength, their beauty.
When: 31 Aug, 3.30-4pm
Where: Gallery 1, BLINDSIDE
___________
Michelle Sakaris | After Simeon the Stylite, September 2014
On the first and second of September Michelle Sakaris will sit on a column during gallery exhibition hours. The two-day performance After Simeon the Stylite, temporarily takes up the form of performative asceticism modelled by Simeon the Stylite on the day the Orthodox Church commemorates his life—September 1 and September 2 being the day of his death.
After Simeon commemorates the hermit and his asceticism. Living in the early fifth century Simeon the Stylite dwelled on the top of a pillar for 37 years. While living the harsh life of a hermit, Simeon's vertical escape from the world drew constant crowds at the base of his column. Simeon was aware of the paradoxical and performative aspect of his withdrawal from the everyday. Putting himself in public view, he put on display the very disengagement from the ordinary lives of those who came to look up to him.
When: 1 & 2 Sep, 10am-6pm
Where: Gallery 1, BLINDSIDE
___________
Waterfall Person and Paradise Structures | LEAKY WAVE
An interactive installation where gallery visitors are invited to make some floppy sounds: wonky guitars, wobbly keyboard stands, funny pedals, dodgy effects, music that makes you laugh. Embrace your inner wobble and come and make some floppy sounds.
When: 4-6 Sep, 12-6pm
Performances: Sat 6 Sep, 3-6pm
Where: Gallery 1, BLINDSIDE
___________
CLOSING EVENT
The Newport Dolls and Sticky Institute | Zinemaker readings and zinemaker rock!
The Newport Dolls and Sticky Institute present an evening of zinemaker readings and zinemaker rock at BLINDSIDE.
The Newport Dolls are a Melbourne-based zinester supergroup. The band approach their music in a similar way to how they approach their zines. Featuring a different line-up every time they play, The Newport Dolls have performed on the big stages of Sticky Institute, The Substation (Newport), The State Library of Victoria and The Old Bar and are now ready to rock Blindside. The Dolls will be supported on the day by a mighty mob of eight zinemakers reading from their zines.
When: 6 Sep, 8-10pm
Where: Gallery 1, BLINDSIDE
___________
OFF SITE EVENT
Arts Participation Incubator| Participatory site-specific art: Who? What? WHY?
Artists and local governments want to engage communities in making authentic artworks in the public domain. But how does the best site-specific artwork happen?
With visiting international guests Gap Filler (NZ), this workshop is about creating distinctive and participatory site-specific arts projects. We will be looking at best practice in commissioning and producing artworks that are participative, authentic, consultative and distinctive.
If you work in local government or if you are a maker of site-specific projects – you can't afford to miss this workshop!
Led by Christchurch post-quake urban activist group Gap Filler (gapfiller.org.nz) with Deakin University's Arts Participation Incubator and City of Melbourne, this two-part workshop will explore how to prepare the ground for a successful creative project, whether you're establishing some productive constraints for a project of your own, or running a local arts program.
Ryan Reynolds and Andrew Just from Gap Filler are leading this workshop and will take participants through their process; provide case studies of best practice; and give a hands-on workshop for participants who are currently working on participative arts projects in the public domain.
Issues to be addressed include:
– Developing the brief
– Creative problem solving
– Processes for ensuring site specific art works engage communities
When: 28 Aug 6–7:30pm (drinks/networking until 8pm)
29 Aug 9:30am–1pm (includes lunch by Kinfolk)
Where: Donkey Wheel House, 673 Bourke St,
Melbourne VIC 3000
Tickets: www.artsparticipationincubator.com
___________
OFF SITE EVENT
Field Theory presents
Zoe Meagher | ASTROJET
Astrojet is an after-dark performance that commemorates Melbourne's forgotten Astrojet Space Centre. Ambitious but short-lived, the museum was built in the early 1970s. Envisioned as 'a window to the Space Age', it incorporated exhibition spaces, shops and a cinema, but closed after three short years. Forty years on, the building still stands.
Part bus tour, part audio guide, Astrojet takes you on an eerily familiar expedition to the building's secret location. With projections, live performance and a disco-infused soundtrack, artist Zoe Meagher guides you to a resurrected Space Centre and illuminates its ill-fated history. Paying homage to 70s sci-fi and defeated Space Age optimism, Astrojet memorialises failure and invites us to consider our own monumental disappointments.
When: 5 & 6 Sep, 7.15pm for 7.30pm start
Where: Meet at BLINDSIDE for bus to secret location.
Bus returns to gallery approx. 9.15pm
Tickets: $20 Bookings essential
www.fieldtheory.com.au