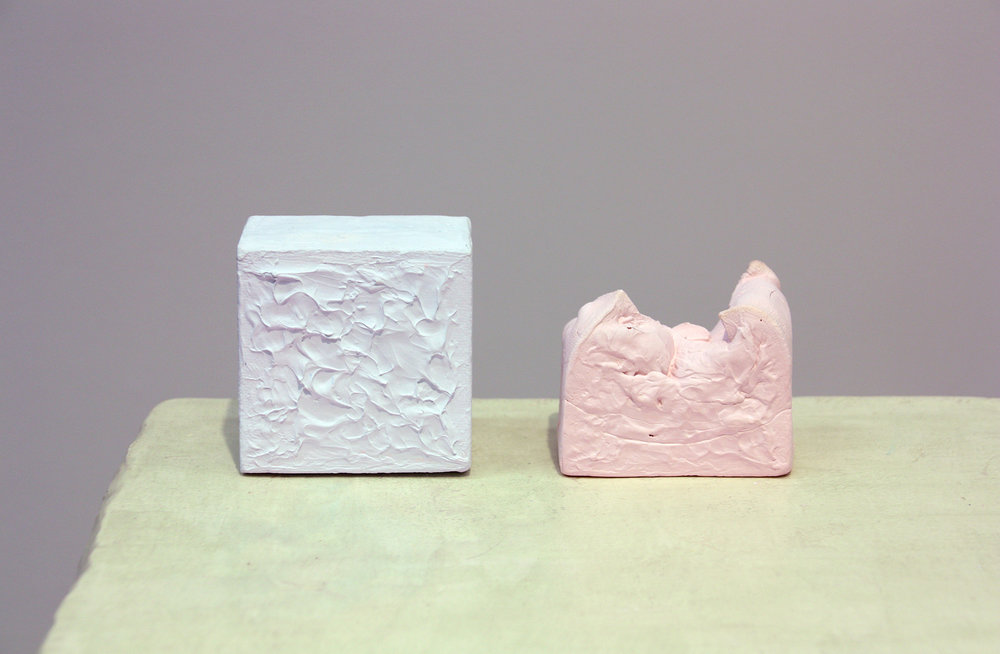 DEBUT XIV:
like mist I am neither
the sea,
nor
the sky
14 Feb - 3 Mar 2018

Opening Night | Thursday 15 Feb, 6pm–8pm
Curated by Lucie McIntosh
Exhibition text by Daniel Stephensen
Tori Lill, Josephine Mead + Madeleine Thornton–Smith
In its fourteenth year, DEBUT XIV profiles exciting new work by selected recent graduates from Melbourne's leading art institutes - RMIT, VCA + Monash University.
This year BLINDSIDE is thrilled to present the work of Josephine Mead, Tori Lill and Madeleine Thornton-Smith. Albeit distinctly unique, the work of each artist is profoundly contemplative and bound by an exploration of the liminal or the in-between.
Liminality describes a space of hovering and a type of ambiguity. It is a threshold between two defined areas - between death and burial, between the end of day and the beginning of night. Liminality is an airport or a hotel. It is that airborne moment in which we find ourselves, after leaping from a rock but before the water swallows us up whole.

In like mist, I am neither the sea nor the sky, memory, human gesture and seductive imagery meet, simultaneously evoking doubt and hope. The works presented as part of this exhibition explore notions of time and ending, disparate states of being and consciousness, as well as the differences and similarities between mediums.
- Lucie McIntosh
//
DROPS OF MATTER
We struggle from the port of catastrophe
Across the underside of presence,
Returning to seek affinity in the world
Like the overflowing dead
Who lay out their affairs
In the zone of pre-life memory.
We bathe curves of correspondence in visions.
We form fluidity at the same time as cohesion.
We say that all form is held between bodies,
Where drops of matter resolve and fall
Over lines and surfaces and contours,
Momentary centres of the world.
DROPS OF SOUL
Young children and the dying
Have pre-life memory,
Spontaneous and unmixed,
Set in motion by drops of soul
Folded into matter
That rub up against one another.
A succession of deepest shock
Unleashes shapes of memory curvature
That stretch into the organic world
Through small oscillations in the soul.
An animal of her exact genetic curve
Passes from one body to another.
Blessed and damned by innovation,
We place ourselves in affinities
To see the substance of possible worlds.
At her limit, what is clear consists of holes
That give her right of way to bend,
To stumble, and plunge to the obscure.
Affinity rays shadow the curvatures
Into her cavernous subtle interior.
DROPS OF FORM
We must cast a figure from us
Over the high crest of obscurity,
Though what form can be recognised?
Veil of being, ceramic wave,
Canvas both open and cloaked.
The curvature bobbing in space
Becomes a body adorned with drops of form
Capable of setting it billowing before us.
With reason but without conclusion,
Our mind drapes the form in matter
To render how it combines and participates,
The way it reaches itself from near and far,
How it transforms the obscure relationship
Into the particular figure, curved to presence,
Collapsed to the cast,
And through.
- Daniel Stephensen
//
Tori Lill is a Melbourne-based artist working in the realm of photography, video and installation. In 2017, Tori completed her BFA (Honours) from the Victorian College of the Arts. Her work broadly explores notions of the in-between both physically and psychologically through distancing, (lack of) touch and removal of the self. Through interrogating the relationship of image and self, and image and viewer - Tori seeks to scrutinise the act of contemplation and embodied experience. Tori has previously shown at BLINDSIDE as part of the PLAY Program and in 2016 was the recipient of the Bus Projects Award and the NGV Womens Association Award at the VCA Graduate Exhibition.
Contemporary author Sean Cubitt explains, that in the world of the pixel, 'space is neither a pre-measured geometric grid nor a geometric projection from a vanishing point, but a construction of the projection of each entity and the relations between them, and that these projections of entities and their relations are space. Space, in other words, is not a void waiting to be filled but the product of relationships.' Space is the distance between two things. The works presented for this exhibition use text and image in both digital and analogue forums to interrogate space and our preconceived notions of it.
In 2014 Josephine Mead completed a Bachelor Degree in Fine Art at RMIT. In 2017 Josephine completed Honours in Fine Art at Monash University. Josephine has shown work in over 30 exhibitions at a range of venues, including Seventh Gallery, Craft Victoria, Blue Oyster Space, Kings ARI, Testing Grounds and the Monash and RMIT faculty galleries. Working through photography, sculpture, installation, writing and video, Josephine is interested in assessing the ways in which she is capable of giving and receiving support. In 2018 Josephine will participate in a cultural research residency in Mexico through the Arquetopia Foundation. The residency will take place predominately in the Juan Crisóstomo Mendez Photographic Library, where Josephine will be searching for photographs of women to inform a series of poetic texts.
The work presented for this exhibition act as a bridge between autonomous self-examination and an ongoing document of Josephine's relationship with her 91-year-old grandmother who has advanced Alzheimers. Through photographic and sculptural means the artist seeks to examine the ways we are in and out of time with one another. Memory-loss is a productive force that consistently pushes one out of time. Josephine is pushing back against this force, resisting losing time and space with her grandmother. By exchanging notions of futility for futurity, these works seek moments of connection, self-realisation and care.
The photographs move through different temporal registers; turning photographic time into a performative function and questioning the artists standing and sense of self.
The wooden support-structure considers how the artist am capable of support.
Scholar Peggy Phelan states that 'tragic theatre embodies the... force of existence-as-rehearsal.' Through this work, the artist is rehearsing for roles that she am yet to understand.
Madeleine Thornton–Smith has a background in painting and training in ceramics. Having moved from a primarily image-based practice to an object-based practice, Madeleine is interested in the tension between these two forms of artmaking. She has obtained various qualifications including a Bachelor of Arts/Visual Arts (Monash, 2013), Honours of Fine Art (Monash, 2014) and Diploma of Ceramics (Holmesglen, 2017). In 2017 she achieved First-Class Honours in Object-Based Practice (Ceramics) at RMIT. Recently she has been challenging traditional archetypes of the vessel, pedestal and canvas by subverting the idea of the "support" or "medium" in contemporary art. Exploring Marshall McLuhan's claim that "the 'content' of any medium is always another medium" (in Lange-Berndt, 2015, p. 200), she asks whether the "content" of an object changes if its medium challenges an expected archetype. Madeleine has exhibited in various galleries throughout Melbourne, including Monash University, Topshelf gallery, Seventh, Lamington Drive and Craft Victoria.
The works presented for this exhibition question where distinct "mediums" end and others begin. Remediation is the act of re-forming an object in a material from which it wouldn't usually be made. This notion been integral to explorations into the medium and the support.
Amy Gogarty argues that the process of remediation leads to new realities; mediums borrow, repurpose or refashion examples from within their own history, as a form of homage or critique, or as a formal rhetorical device to reinterpret older media (2007, p. 95). Plinths,
shelves and frames are so often invisible "furniture" in the gallery; objects which traditionally obfuscate themselves, to disappear, beneath that which is more "important", the "art". Reconfiguring these forms has included experimenting with not only with traditional clay and glazes but with making canvases, vessels and plinths out of related materials such as plaster, canvas, paper clay, concrete, papier mâché and paint. For example, Madeleine has slip-cast paintings into ceramic and created frames out of acrylic paint, using it as sculptural material in its own right. Her works mimic each other in texture and form, existing in a back-and- forth dialogue; one process leading to the other, and back again, challenging the viewer's perception of the material's content.
IMAGES | Josephine Mead, A lesson in Holding Oneself Up (detail), 2017, inkjet print on 310 gsm Ilford Smooth Pearl paper 41.5cm x 21.5cm (edition of 5); Madeleine Thornton-Smith, Is it…? (detail), 2017, ceramic plinth, acrylic, earthenware paintings, plinth 30 x 30 x 58 cm; Tori Lill, I told you I was falling (detail), 2017, digital inkjet print, 203.5 x 101.5 cm.